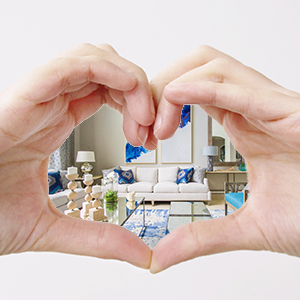 (Hint: Think "Us")
When I meet a client for the first time, I am already scanning and processing all the information that is being projected. My design antenna is capturing, sorting and storing my new client's 'design vibes'.
She opens the front door, no shoes, shorts, and a stained white t-shirt, I pick up 'casual, practical, young family'.
She opens the door in a chic blush pair of pants, nude kittens and a silk blouse. I receive 'professional, put together, grown kids'.
And then I meet you.
From that moment, your home interior is starting to take shape. My synapses are firing, ideas are forming, and rooms are starting to be built up in my mind's eye.
Because the interior of your home is all about YOU! It's a projection of who you are, what you are about!
The most important aspect of "us" (now we are a team) is our designer relationship – our rapport. We need to gel, vibe, understand each other.
It's like a design marriage, for a good year (or two, or three), we are going to be in each other's lives. Sometimes it's forever (next Tuesday night, I am going out with my very first client I ever had!). We are going to sort through our priorities, understand what design aesthetics represent you, and then, we are going to pull together and GET YOUR HOUSE DONE!
To achieve maximum "you" in your home, you need to let me know who you are, what you like, what's important to you.
I was once blown away by a client, a professional at the top of her field, who was a big softy under it all. Until we uncovered that side of her personality, we had not settled on a look and feel. Once she started telling me about her family, parents, husband, her home interiors began to take beautiful shape. The look softened, the tones became whimsical, in such an interesting modern way.
I finished her home about three years ago. She tells me she still loves it, and she can't believe her home is finally there. After 25 years of owning a home, having used multiple decorators in the past, she finally has a home that is "completely her".
And then I have clients who find it hard to articulate what design style they love.
I understand, I find it tough to articulate how I feel about food. (Get to know me and you will soon learn that I have never cooked a meal, and my staple food is chocolate). My husband has to order for me in restaurants. I find it an impossible decision! It is my job to help you discover your true aesthetic.
To make our design successful, in the case of "design fog", show me a picture, tell me about restaurants, hotels, and even a movie in which an interior caught your eye.
One client was very shy to tell me she LOVED the apartment in 50 Shades of Grey. Once she got that off her chest, we laughed, clinked our wine glasses, and got going on the home of her dreams (the family friendly  version, of course).
Besides color, tones, furniture, layout, and the other design elements that are vital to design, without "us" it's all irrelevant! I look forward to meeting you, getting to know you, and then you and me creating us!